This community is rich with history, people, culture, schools and institutions that make The Main Line unique.
Listed below we have provided helpful information. Including event listings, restaurant reviews, recreational options and more.
The Main Line is a group of suburbs in the Philadelphia metro area located west of the city in Montgomery, Delaware, and Chester Counties. These suburbs are called the Main Line because they sprang up along the route of the historic Pennsylvania Railroad, which connected the towns. Residents of Main Line towns live a very high quality of life, as these are some of the wealthiest communities in the country. Many of the sprawling mansions and large homes that historically characterized the Main Line region still exist today, and are a lovely part of the Main Line landscape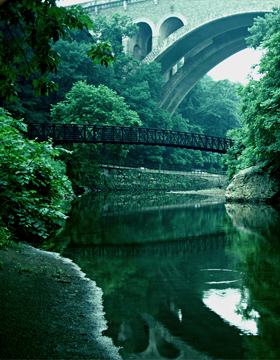 Every city touts its own beauties, but few cities anywhere can lay claim to the sylvan beauty on the banks of the Schuylkill River that are known are Fairmount Park. The Park (4,180 acres) is the largest landscaped park in the U.S. We can walk, bicycle, rollerblade, or drive along Kelly and West River Drives today and feel ourselves deep in the country. In the depths of the Wissahickon Ravine and at other points in the park, the city's tall buildings are not visible over the treetops, and if it were not for the hum of traffic on the Drives, we could be in the pastoral world that Thomas Eakins painted. It was Eakins who immortalized the scullers on the Schuylkill: some of these paintings such as "The Biglen Brothers Practicing" are exhibited today at the Philadelphia Museum of Art. The Mount for which the park was named is the rise on which the museum stands.

Fairmount Park was the site of the Centennial Exposition of 19876, and several buildings from that earlier fair still stand, notably Memorial Hall. One of the world's largest municipal parks, Fairmount contains several million trees, the oldest zoo in the U.S., Boathouse Row, cherry blossoms to rival those along the D.C.'s Potomac Basin, Robin Hood Dell, an outdoor venue for soul-filled summer singers, the Mann Music Center, the Philadelphia Orchestra's (and others') summer amphitheater, picnic areas, tennis courts, miles of bicycle paths, bridle paths, an azalea garden, hundreds of statues and monuments, and two dozens or so 18th and 19th century buildings, which comprise an unusual historical patrimony.

Don't limit yourself to just this one park! Make sure to check out Penns landing and the River Rink. And make sure to venture out to the suburbs to check out Valley Forge National Park, Graeme's Park, Warwick County Park and The Willows Park and Mansion!